News in 2015

General Assembly 2015 – close run between VCGR, Vietnam and geosuisse, Switzerland

FIG 38th General Assembly was held on 17 and 21 May 2015 in Sofia, Bulgaria in connection with FIG Working Week 2015. The Vietnamese association VCGR won the election for the FIG Working Week 2019, both a Honorary President and a Honorary Member was appointed, and FIG Council introduced a new appreciation as Honorary Ambassador. The Work Plans for the term 2015-18 were introduced and debated, and four new Task Forces were endorsed by the General Assembly.The General Assembly was very well attended. On 17 May 51 member associations out of 102 were represented and on 21 May 56 out of 103 member associations were present. Hereto there were both affiliate, academic and corporate members attending as well as observers.
FIG president Chryssy Potsiou opened the General Assembly with the FIG Fanfare. The very first time the FIG Fanfare was played was in the exact same room as the 38th General Assembly took place – in the National Palace of Culture in Sofia in Hall 3. This was 1983. Now 32 years later FIG proved to be as vivid as ever and with many interested participants representing all ages from the young surveyors, who also followed the General Assembly, to the experienced and older surveyors who have had a long history within FIG.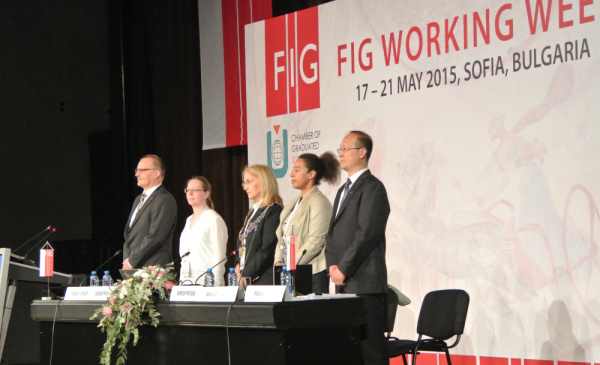 FIG Council as the FIG Fanfare was played
FIG Working Week 2019 election
The only election that took place during the FIG Working Week 2015 was the decision on the venue for the Working Week 2019. This was however also spell-binding. Four strong candidates were included in the first round – this is a notably high number of interested bidders. FIG is very thankful that there is this large interest in hosting a future FIG Conference. It is of great importance to FIG that Member Association can see the benefit of hosting a FIG Working Week and are expressing their interest in working together with FIG. It is therefore also important for FIG to thank all the bidding associations – there is a substantial amount of work in submitting a bid, and at the end there can only be one winner. The competition was very tight with four so strong candidates, and all bidders showed great creativity in their presentation of themselves and their destination throughout the Working Week. The actual election was therefore eagerly anticipated. The second round of voting was between geosuisse, Switzerland and VCGR, Vietnam. Altogether 75 voting sheets resulted in 35 votes for Switzerland and 40 votes for Vietnam, which means that the FIG Working Week 2019 will be held in Hanoi, Vietnam.
| | |
| --- | --- |
| Voting time | Voting - standing in line |
| The tellers made sure that the voting was done correctly | Vice President Rudolf Staiger almost forgot to call the vote from VCGR, Vietnam |
| President Dr. Tran Bach Giang and Vice President Mr. Trinh Anh Co thanking for the election | The two tellers are busy handing out the voting sheets |
Membership
Three new member associations were admitted as new members by the General Assembly. We hereby welcome:
Colombian Society of Surveyors, Sociedad Colombiana de Topografos (S.C.T.) (MA-10124)
Distinctive Engineering Group, Rwanda (MA-10125)
Licensed Surveyors Association of Ghana (LISAG) MA-10126
Since the last General Assembly FIG Council has admitted:
5 new Affiliate members:
iTaukei Land Trust Board, Fiji – AF-20051
Geospatial Information Authority of Japan/Geodetic Department – AF-20052
Guatemalan Registry of Cadastral Information (Registro de Información Catastral de Guatemala – RIC), AF-20053
Land Administration Authority (LAA) Lesotho – AF-20054
General Direction of Land Registry, Mapping and Cadastre, Benin
5 new Corporate members:
Branco Etera Ltd, Kazakhstan – CM-30055 (Category F)
NEH Engineering survey and mapping limited company, Vietnam – CM-30056 (Category E)
Ripro Corporation, Japan – CM-30057 (Category D)
Datalife, Nigeria (Category F)
Innovation for Trading and Contracting (Category F)
7 new Academic members:
Technical University of Civil Engineering - Faculty of Geodesy, Bucharest, Romania (AC-40134)
Sabaragamuwa University of Sri Lanka, Faculty of Geomatics (AC-40135)
Kwame Nkrumah University of Science and Technology, Department of Geomatic Engineering, Ghana
Kaduna Polytechnic – Department of Topographic Science, Nigeria
University of Benin, Nigeria – Faculty of Environmental Sciences & Technology, Nigeria
Federal Unioversity of Technology, Surveying & Geoinformatics Minna, Nigeria
University of Nigeria Nsukka Enugua Campus, Surveying and Geoinformatics UNES

Unfortunately the General Assembly had to expel Ordre National des Geometres du Cameroun and Tunisian Association of Chartered Surveyors because of unpaid membership fees. We do hope that it will be possible to sort this out and welcome both associations back again.
Last year College of Engineers and Surveyors of Puerto Rico (MA-10069) and Geodetic Engineers of the Philippines, Inc. (MA-10107) were actually expelled by the General Assembly, but both member associations managed to find the funds to stay within FIG and FIG Council could proudly announce to the General Assembly that the associations are still amongst the members of FIG.

Honorary President, Honorary Member and Honorary Ambassador
It was an honour for FIG Council and President Chryssy Potsiou to appoint Mr Teo CheeHai Honorary President for his contributions especially during the last four years as President of the Federation. The nomination was motivated by Dr. Zaid, President of PEJUTA, Malaysia.
Mr. Peter Hoogwerf, GIN, Netherlands, motivated the nomination for Christiaan Lemmen to be appointed Honorary Member. Christiaan Lemmen has done an outstanding job for FIG for many years, not only as Chair of the Permanent Institution, OICRF but in many various aspects, assisting the development and promotion of the surveying profession at an international level. Further to this Christiaan Lemmen has contributed to several FIG publications and the work in FIG Commission 7.
Both appointments were adopted with standing ovation.
Dr. Clarissa Augustinus, UN-Habitat, has worked closely with FIG for many years through her position in UN-Habitat and since the establishment of the Global Land Tool Network (GLTN). FIG Council wanted to acknowledge the longstanding cooperation with Clarissa Augustinus that has lasted throughout many councils and FIG presidents. Clarissa Augustinus is founder and Lead on the Global Land Tool Network. Clarissa Augustinus is in June 2015 standing down from UN-HABITAT. At the General Assembly FIG Council therefore introduced to the audience that they had decided to appreciate Clarissa Augustinus as Honorary Ambassador as a special consideration. The certificate was motivated and presented by FIG President Chryssy Potsiou during the Plenary session 2 on 19 May during the FIG Working Week 2015 in Sofia, Bulgaria, where Clarissa Augustinus was one of the plenary speakers.
| | |
| --- | --- |
| President Chryssy Potsiou congratulating FIG Honorary President Teo CheeHai | Chryssy Potsiou fastening the silver pin to mark the appointment of Christiaan Lemmen as FIG Honorary Member |
| At the 2nd plenary session Chryssy Potsiou handed over a framed certificate of appreciation to Dr. Clarissa Augustinus as FIG Honorary Ambassador | Participants during the General Assembly |
FIG Work Plan and 4 new Task Forces
FIG President Potsiou and other representatives gave short reports from the activities since the last General Assembly, and hereafter she reveled the ideas behind the Work Plan 2015-18 and the planned activities. A new FIG Regional Capacity Development Network was established, based on the work and outcome from the Africa Task Force 2009-2014. Four Task Forces were furthermore endorsed by the General Assembly:
Task Force on Real Property Markets, Chair Pekka Halme, Finnish Association of Geodetic and Land Surveyors MIL
Task Force on Commission Structure, Chair Mikael Lilje, Swedish professionals for the built environment, Samhällsbyggarna
Task Force on Corporate Members, Co-chairs John Hohol, NSPS, in cooperation with Bryn Fosburgh, Trimble
Task Force on Scientific Journal, Yerach Doytsher, Association of Licensed Surveyors in Israel (ALSI)

The 10 Commission chairs as well as the chair of Young Surveyors presented their Work Plans.
It was pleasant to see an active General Assembly commenting and asking questions to the Commission Work Plans of which many related to communication, education, mutual recognition and how national delegates can be more involved in the work of the commissions. There was furthermore a very specific question, since there is now a publication on boundaries on land (FIG Publication 59), whether boundaries at sea can also be a focus are for a working group. Most participants also agreed that it was important that surveyors from neighbouring countries help each other, and use each other as sparring partners to improve both education, conditions and the work for surveyors and in general.
Unfortunately the Chair of Commission 9, Dr. Liao Junping, had to make the sad decision to step down as chair. FIG Council thanked him for the work he has done until now for FIG. The matter was discussed in FIG Council as well as at the Commission 9 Meeting, and the Council hereafter decided to appoint Mr Steven Nystrom, NCSP, US, as Chair of Commission 9 for the rest of the term 2015-2018. Mr Steven Nystrom received the FIG bronze pin as symbol of his appointment.
At the Presidents Meeting 49 Member Associations were represented and the overall theme for this meeting was how the member associations prepare the surveyor of tomorrow.
| | |
| --- | --- |
| Steven Nystrom was appointed Chair of Commission 9 for the rest of the term 2015-18 | 49 presidents had found their way to the Presidents meeting prior the 2nd General Assembly |
At the second General Assembly on 21 May 2015 there were reports from the various activities throughout the Working Week, hereunder the Member Association Forum, Director General Forum, Academic Forum, Task Force meetings, Commission Meetings and last but not least Brent Jones, ESRI gave a feed back from the Corporate Members meeting which also included an evaluation of the Working Week in general (link).
FIG council thanks for the participation to the General Assembly and is looking forward to a close cooperation with all members. The General Assembly and Working Week 2015 was closed with a farewell reception which was at the same time a welcome to New Zealand – to the FIG Working Week 2016 in Christchurch 2-6 May.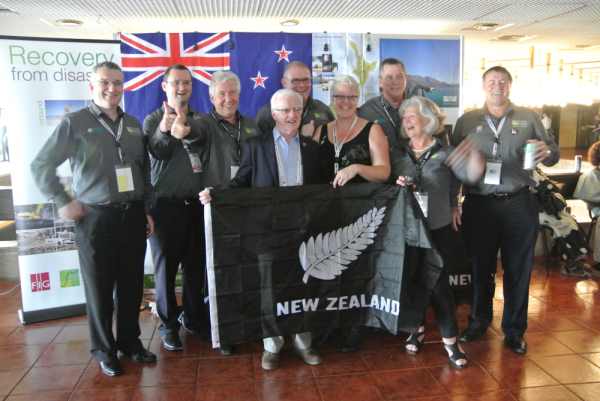 Welcome to Christchurch New Zealand 2-6 May 2015 - www.fig.net/fig2016
More information:
Louise Friis-Hansen
3 June 2015