Conference and Seminar Proceedings

FIG Commissions 5, 6 and SSGA Workshop
"Innovative Technologies for an Efficient Geospatial Management of Earth Resources"
23-30 July 2009 Lake Baikal, Listvyanka, Russian Federation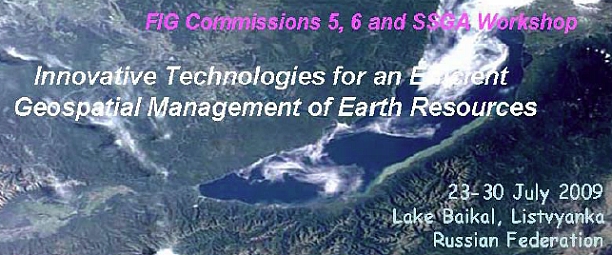 Hosted by:
INTERNATIONAL FEDERATION OF SURVEYORS (FIG)
SIBERIAN STATE ACADEMY OF GEODESY (SSGA)
TECHNISCHE UNIVERSITÄT BERLIN (TUB)
IRKUTSK STATE TECHNICAL UNIVERSITY (ISTU)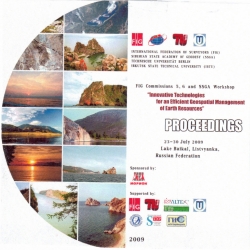 P
roceedings
Edited by
Mrs. Argina G. Novitskaya
responsible for editting
E-mail: argina@gmx.de, argina.novitskaya@gmail.com


The author's right reserved.
Published by the Siberian State Academy of Geodesy (SSGA), July 2009
ISSN: 978-5-87693-339-3
Printed in Novosibirsk, July 2009
Hard copy of full proceedings as a .pdf file (10.2 MB, 105 pages)
Изд. лиц. ЛР № 020461 от 04.03.1997.
Подписано в печать 20.07.2009. Формат 60 × 84 1/16
Печать цифровая.
Усл. печ. л. 5,99. Тираж 100 экз.
Заказ .
ГОУ ВПО «Сибирская государственная геодезическая академия»
Отпечатано в
630108, Новосибирск, ул. Плахотного, 8.
Sponsors

General sponsor:

Supporteted by:

The Federal Service of Geodesy and Cartography of Russia (Roskartographia)
GIS-Association
Interregional Association "Siberian Agreement"
Journal "GEOPROFI", Moscow
"BaikalGeoService" Research-and-Production company
JSC "Agency of Tourism and Sport"

Organising Committee
Chairman:
Prof. Dr. Lothar Gruendig, Institute of Geodesy and Geoinformation, Technical University of Berlin, Germany

Vice Chairmen:
Prof. Vladimir A. Seredovich Siberian State Academy of Geodesy, Russian Federation
Dr. Ivo Milev Technet GmbH, Germany

Co-Chairmen:
Mr. Matt Higgins, Vice President of FIG, Australia
Prof. Anatoli L. Okhotin, President of the Baikal Union of Mining Surveyors, Head of the Department of Mine Surveying, Irkutsk State Technical University, Russian Federation
Prof. Eugene M. Medvedev, General Manager, Altex Geomatica Company, Moscow, Russian Federation

Secretarу:
Mrs. Argina Novitskaya, Manager, Siberian State Academy of Geodesy, Russian Federation

Proceedings
Sunday, 26 July 2009
Sunday, 26
July 2009
09:00-09:30
'Mayak' Conference Hotel
Registration of the participants
Sunday, 26
July 2009
09:30-09:45
Opening Ceremony

• Greetings by Prof. Dr. Ivan M. Golovnykh
• Greetings by Prof. Dr. Lothar Gruendig
• Greetings by Prof. Vladimir Seredovich
• Greetings from Mr. Boris I. Ivlev
• Greetings from Dr. Sergey A. Miller
• Greetings by Prof. Anatoli L. Okhotin

Sunday, 26
July 2009
09:45-11:45
Technical Session I
Chair: Prof. Dr. Lothar Gruendig, Technical University of
Berlin, Germany
Vice Chair: Prof. Vladimir A. Seredovich, Siberian State Academy of
Geodesy, Russian Federation
Co-chairs: Dr. Ivo Milev, Technet GmbH, Germany; Prof. Anatoli L. Okhotin, President of the Baikal Union of Mining Surveyors, Head of the Department of Mine Surveying, Irkutsk State Technical University, Russian Federation; and Prof. Eugeny M. Medvedev, General Manager, Altex Geomatica Company, Moscow, Russian Federation
Secretary: Mrs. Argina Novitskaya, SSGA, Novosibirsk, Russian
Federation

Christian Clemen and Lothar Gruendig (Germany):
3D Building Information Efficiently Acquired and Managed
[ handouts ]

Dr. Ivo Milev (Germany):
EUPOS the Success Guarantee for Rapid Buildup the Infrastructure in the Countries of Central and Eastern Europe
[ handouts ]

Daina Morgan (Canada):
Using Mobile Lidar to Survey Railway Infrastructure. Lynx Mobile Mapper
[ handouts ]

Prof. Vladimir A. Seredovich, Alexander V. Seredovich, Michael D. Kozoriz (Russian Federation):
Using Laser Scanning for Estimating Mine Output Volumes and 3D Modelling of Geological Situation
[ handouts ]

Prof. Vladimir A. Seredovich, Alexander V. Seredovich, Andrey V. Ivanov, Russian Federation:
Control of Highway and Railway Construction and Repairs Using Terrestrial Laser Scanning
[ handouts ]

Dr. Albrecht Grimm (Germany):
IGI's Systems for the Efficient Collection of Earth Data
[ handouts ]

Sunday, 26 July
2009
11:45-12:00
Coffee Break
Sunday, 26 July 2009
12:00-13:30
Technical Session 2

Gennady A. Sapozhnikov, Boris I. Ivlev (Russian Federation):
About Development of Base Conditions of Formation of Regional Innovative System in Novosibirsk Region
[ handouts ]

Christian Manthe, Christian Clemen, Lothar Gruendig (Germany):
Using Oracle Spatial with Coordinate Systems Based on Any Regional Geodetic Datum
[ handouts ]

Dr. Sergey A. Miller (Russian Federation):
The International Experience and Approaches to the Creation of Spatial Data Structures. Positioning of the Russian Federation
[ handouts ]

Prof. Anatoli L. Okhotin (Russian Federation):
Application of Laser Scanning in Mine Surveying
[ handouts ]

Emil Ya. Ostrovsky, Sergej V. Rumyantsev, Vyacheslav A. Fadeev (Russian Federation):
CS-technology (Consistent Structure Technology) – an Intellectual Breakthrough in Investigations of Natural Complexes by Digital Images
[ handouts ]

Sunday, 26 July
2009
13:30-14:30
Lunch
Sunday, 26 July 2009
14:00-15:30
Technical Session 3

Prof. Eugene M. Medvedev (Russian Federation):
New Features of Airborne Lidar Data Processing in DTM Generating, Forest Inventory and Civil Engineering Works
[ handouts ]

Andrey B. Skrepnyuk, Irina G. Guskova (Russian Federation):
Using Geospatial Data for Implementation of Informational Processes of
Design Engineering of Gazprom's Facilities: Case History
[ handouts ]

Leonid A. Plastinin, Nadezhda V. Kotelnicova, Boris N. Olzoev (Russian Federation ):
Cartographical Support of Steady Development of Tourism on Trans-Border Territories of Russia and Mongolia
[ handouts ]

Evgeny V. Klevtsov, Valery S. Pankratov (Russian Federation):
Satellite Monitoring of Mobile Objects
[ handouts ]

Valery A. Kartashov, Vyacheslav T. Zalutsky (Russian Federation):
Some Geodetic Technologies of Explorations on the East- Siberian Railway
[ handouts ]

Anatoly D. Trubchaninov, Olga A. Yagunova (Russian Federation):
Mining and Environmental Monitoring of Closed Mines in Kuzbass
[ handouts ]

Sunday, 26
July 2009
15:30-16:00
Coffee Break
Sunday, 26 July
2009
16:00-17:00
Technical Session 4
Sunday, 26
July 2009
17:00-18:45
Round-table discussion

Closing Ceremony