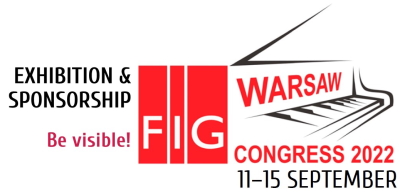 Increase your visibility by sponsorshop and exhibition
Dear Friend and Colleague,
With 7 months to go till the FIG Congress 2022 in Warsaw, Poland preparations are in full swing.
There has been a very good response to our call for abstracts. This shows us that people are enthusiastic to meet up and take part in our first physical gathering in three years! The abstract submission is now closed, and we are looking forward to bringing together an interesting and inspiring programme at the Congress.
Thanks to all who has submitted an abstract – you will be notified by 28 February 2022 whether your abstract has been accepted. The reviewing process for the peer-review papers has also started.

EXHIBITION
As in previous years, an exhibition will take place during the three conference days of the Congress, and it would be great to welcome a lot of organisations to meet all the dedicated surveyors and geospatial experts from all over the world. It is a special opportunity for companies and organisations to be visible and showcase latest news. If you or your company want to be part of the exhibition, or if you know an organisation or company who cannot be missed at the exhibition, please invite them to take part in it, or let us know so we can invite them.
Check the exhibition possibilities at our website or download the Prospectus here
SPONSORSHIPS

With a sponsorship you can increase your visibility at the Congress. You can choose between several sponsorship opportunities spanning from a basic sponsorship giving you some extra exposure than just a stand to a platinum sponsorship which gives you further possibilities to showcase your company, e.g. with a dedicated exhibitor session.

Your planning to gain as much out of your sponsorship starts now.
Check the possibilities at our website