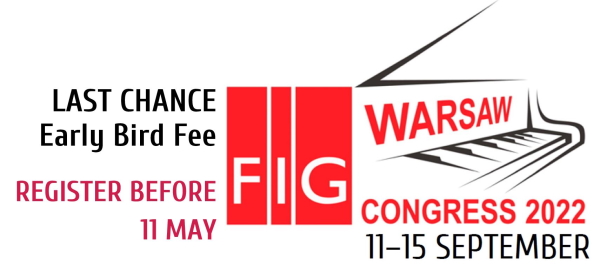 Dear Friend and Colleague
We cannot wait to meet in person!
Register today for the FIG Congress 2022 in Warsaw, Poland and enjoy the discounted Early Bird Fee.
Early-bird Registration fee for the 2022 FIG Congress on 11-15 September in Warsaw, Poland, will end on Tuesday 10 May. You still have a couple of days to register before the fee changes from 550 EUR to 600 EUR.
Registration to FIG Congress 2022 gives you:
Three full days brimming with rich, inspirational and highly relevant professional learning opportunities, a spectacular opening ceremony followed by the Welcome Reception and an inspiring exhibition featuring the latest products and services.


Six powerful keynote sessions from experts who have worked both within and beyond the surveying/spatial profession


The choice between 70 sessions covering the entire spectrum of the profession reflected by the range of the ten technical commissions; covering all who measure, position, map, locate, appraise and value, estimate and cost, plan, construct, develop and manage the land, the seas and any man-made structures with a vision to extend the usefulness of surveying for the benefit of society, environment and economy.


Networking opportunities with peers from around the world giving an unrivaled opportunity to discover how others are doing things, meet people who share your passion and share your own knowledge and experiences.


Opportunity to attend pre-events, the festive Congress dinner, tours in and around Warsaw... in other words, explore and feel the friendly Polish hospitality.
For more information, please visit www.fig.net/fig2022
Have you submitted an abstract?
Please note: Authors who have registered and will attend in person in Warsaw, Poland will be included with a presentation slot in a session in the technical programme.
The online registration will open later. Currently there are no restrictions travelling to Poland. Authors with online registration will be connected to a session and will be included in the technical programme/proceedings with abstract, paper and a link to a video presentation (if submitted). The video will not be presented in the on-site session and there will be no possibility for an online presentation.
Did you register in 2020 and your registration was transferred to 2022?
Please wait for a special email. This email includes a link through which you can finalise your registration. You will automatically register with the early bird fee.
Have you booked accommodation?
Book your room at the congress hotel and get the FIG discounted fee. The special fee is available until 30 June. Hereafter the fee may change. www/fig2022/accommodation.htm
Register today! https://www.fig.net/fig2022/registration.htm
We would appreciate if you would spread the word about this special event to your friends and colleagues!
The large XXVII FIG Congress which only takes place every 4 years marks the final year of the current leadership of FIG and the transition to a new term. The Congress is organized by the Polish Member Association SGP in cooperation with FIG.
We look forward to meeting you in Warsaw!

A special thanks to our confirmed sponsors and supporters for this years' Congress!
Is your company not yet on the list?
You can still increase your visibility with a sponsorship or a booth at the exhibition.
See how
Kind regards
Evelien Hertz - van Gelder
International Federation of Surveyors
Fédération Internationale des Géomčtres
Internationale Vereiningung der Vermessungsingenieure
International Federation of Surveyors
Kalvebod Brygge 31-33
DK-1780 Copenhagen V
Tel. + 45 3886 1081
Direct: + 45 9391 0812
ehg@fig.net
www.fig.net
FIG Working Week 2024, Accra, Ghana
FIG Working Week 2025, Brisbane, Australia
FIG Congress 2026, Cape Town, South Africa
FIG on Social Media:




If you have not already joined, join us today...
---

This Conference info is mailed to members and previous participants in FIG events.

If you do not receive the monthly FIG Newsletter you can subscribe here: www.fig.net

If you do not want to receive the conference news in the future, please click here to unsubscribe from the mailing list
.
---