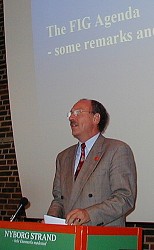 President Magel making his address on the FIG Agenda.
The Danish Association of Chartered Surveyors (DdL) organised its Annual Conference in Nyborg, Denmark 30 January – 1 February 2004. The conference, which takes place every year at the last weekend in January, has been organised in the same hotel 56 times without interruption. The central location and programme, which combines professional presentations, exhibition and social activities, attracts every year more than half of the Danish surveyors to Nyborg for three days. This year there were 520 participants in the conference, which was an all time record. Even the gala dinner attracted more than 250 participants. At the dinner the VIP guests are traditionally students that have graduated during the past year. This is an excellent way to build team spirit among young surveyors.

This year's keynote speaker was Prof. Holger Magel, President of FIG, who made presentation about FIG and its future plan of action at the opening plenary. This was Prof. Magel's first presentation to the members of DdL, which also hosts the FIG permanent office. He further made a keynote address "Land Policy and Land Management – A Challenge for Surveyors, German Experiences" at the main professional plenary on the second day of the conference. The other keynote speaker was Mr. Jesper Jarmbæk, the new Director General of KMS, whose presentation about the future Kort & Matrikelstyrelsen (the Danish mapping and cadastre authority) interested all participants. The Conference was hosted for the first time by Prof. Stig Enemark, who was appointed as the President of DdL in September 2003.

At the technical conference the topics covered actual issues like nature protection, 3-D visualisation, digital management, e-governance and IT-infrastructures. A roundtable was organised on the new structure of local and regional government that is a hot political issue in Denmark right now.

There is also a tradition that representatives of other Nordic countries are invited to each other's annual conferences. This time these were Svante Astermo, President of SLF (Sweden), Leiv Bjarte Mjøs, President of NJKF/NIF and Erik Lönnfeld from Finland who invited all participants to the Nordic Surveying Conference to be held in Finland in June 2004.
President Holger Magel's presentations at the DdL Annual Conference:
Land Policy and Land Administration - A Challenge for Surveyors. Visions and Experiences in Germany. Keynote presentation at the Annual Surveying Congress of the Danish Association of Chartered Surveyors, DdL, 31 January 2004
Welcome Address at the Annual Surveying Congress of the Danish Association of Chartered Surveyors, DdL, 30 January 2004