News in 2019

The Association of Polish Surveyors SGP celebrated its 100th anniversary
25 January 2019, Warsaw, Poland
Rudolf Staiger had his first official appearance as FIG President at the celebration of 100 years of the Association of Polish Surveyors on 25th of January in Warsaw.
Our polish colleagues organized a remarkable one-day-event in Warsaw under the leadership of SGP-President Prof. Janusz Walo and Prof. Andrzej Pachuta in a festive and representative ballroom of the engineering association NOT.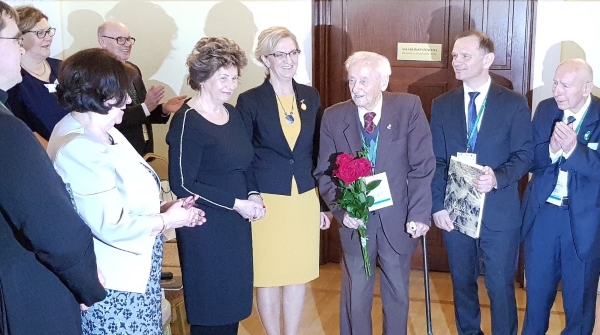 Ryszard Ruszkowski (in the middle) Prof. Janusz Walo (to his right)
Among the numerous colleagues and members who were awarded at that day was Surveyor Ryszard Ruszkowski who was borne in the year of the foundation of SGP. Very soon Ryszard will celebrate his 100th birthday! Fig. Ryszard Ruszkowski (in the middle) Prof. Janusz Walo (to his right) Since many years Dr. Ludmila (Milka) Pietrzak is representing the SGP at FIG events. She received a medal for her merits in the fields of geodesy and cartography and she received a second award for her merits in the field of literature and technical journals. The Polish Association of Surveyors joined FIG in 1926 at the "age" of seven. Since then SGP has always been a faithful and active member in our federation. In his speech, FIG-President Staiger conveyed the greetings from the entire federation to SGP and gave an introduction into FIG and the challenges, which our profession but also our associations are currently facing. More than 400 participants attended the festive event not only from Poland but also from Austria, Belgium, Czech Republic, Germany, Slovakia, Switzerland, Turkey and Ukraine.
| | |
| --- | --- |
| | |
Rudolf Staiger
January 2019
©2023 FIG